Fuchsia serratifolia Ruiz & Pav.
Frost-tender, erect to twining shrub or small tree with narrow leaves, to 17cm long, and axillary flowers clustered towards the ends of branches, with pink or light red tubes and sepals, tipped green-white, and slightly wavy, orange to vermillion corolla. To 10m. [RHSD, Hortus]. Fuchsia serratifolia has been described as a variety of F. denticulata with leaves rather more serrated than the type.
Horticultural & Botanical History
Fuchsia serratifolia is figured in Paxton's Magazine of Botany: 'It is a magnificent-looking plant, with a stout erect stem and spreading branches, amply clothed with whorls of large, oblong, rich green leaves, with a satiny gloss on the upper surface and a tinge of red beneath. The flowers have a very gay and elegant appearance, and although there is only one from each axil, yet as they all drop and hang below the branches, and consist of a long rosy tube tipped with yellowish green, and petals of a red vermilion hue, they are very conspicuous and interesting.' [MB p.170/1845]. It is also figured in Flore des Serres [FS f.447/1849], Curtis's Botanical Magazine [BM t.4174/1845], the Floricultural Cabinet [FC p.193/1845] and the British Florist [BF p.80/1845]. Originally imported by Veitchs of Exeter, collected in Peru by William Lobb, probably in 1844. 'Nothing attracted the attention of the visitors at the last meeting of the Horticultural Society more strongly, than a very fine plant of this beautiful new Fuchsia, which seems likely to surpass all that have been yet imported.' [BR f.41/1845]. Fuchsia serratifolia was introduced to Britain in 1844 according to Johnson's Dictionary, and was heavily advertised by Veitch and Son of Exeter around this time. OFG f.88/1854.
History at Camden Park
Listed as Fuchsia grandiflora in the 1850 and 1857 catalogues [T.481/1850]. Macarthur obtained material said to be Fuchsia grandiflora 'Youngii' from George Stevenson, South Australia, in early 1844. In June of that year he wrote requesting more material as 'cuttings said to be of this last which you sent in the Spring turned out to be of the fulgens.' [MP A2933-1, p.21]. Fuchsia magellanica Lam. var. grandiflora, which see, is probably a more likely identification of Macarthur's Fuchsia grandiflora as Fuchsia serratifolia multiflora is listed in the 1850 catalogue. This may account for Macarthur's comments on the plant he received from George Stevenson. Fuchsia fulgens is somewhat like serratifolia in flower, if not in leaf, and he may have been expecting a plant somewhat different to this. See also Fuchsia serratifolia Ruiz & Pav. var. multiflora.
Notes
Fuchsia grandiflora "Fuchsia grandiflora Pillao" [m. Pavón] [Pillao (Perú)] Revision label: Fuchsia serratifolia Ruiz & Pav. [m. Lewis] BC- Ruiz & Pav.-587. [Willdenowia 36 (Special Issue): 595-599].
Published Aug 16, 2009 - 03:44 PM | Last updated Sep 01, 2011 - 04:54 PM
---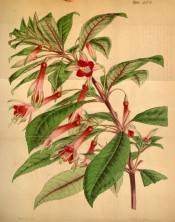 More details about Fuchsia serratifolia Ruiz & Pav.
Family
Onagraceae
Category
Region of origin

South America

Synonyms

Fuchsia grandiflora Ruiz ex Dahlgren
Fuchsia denticulata Ruiz & Pav.
Fuchsia tacsoniiflora Krause

Common Name

Saw-leaved fuchsia, Serrated-leaved fuchsia

Name in the Camden Park Record

Fuchsia grandiflora

Confidence level
low