Dorotheanthus apetalus (L.f.) N.E.Br.
Half hardy, erect red-stemmed annual with somewhat fleshy bright green leaves and solitary crimson, pink or white flowers with a dark central disk in summer. To 10cm. [RHSE, Hortus].
Horticultural & Botanical History
Mesembryanthemum pyropeum Haw. is regarded by the The Plant List as an unresolved name [http://www.theplantlist.org/tpl/record/kew-2362396]. The RHS Dictionary of Gardening [1999] considers it synonymous with Dorotheanthus gramineus, itself synonymous with Dorotheanthus apetalus, the name used here. It was first botanically described as Mesembryanthemum pyropeum by Haworth in 1819 [Supplementum Plantarum Succulentarum p.99/1819] and as Dorotheanthus apetalus by N. E. Brown in 1928 [Möller's Deutsche Gärtn.-Zeitung vol.xliii, p.400/1928].
'Mesembryanthemum tricolor. – This makes a bed of truly beautiful dwarf flowering plants. They require to have full sun to expand their lovely blossoms; they require a rich loam and a sprinkling of lime rubbish. The flowers are of a purple and white, with a dark eye.' [FC p.132/1850]. 'The first account we have of this plant is in Willdenow's Hortus Berolinensis. It is supposed to be a native of the Cape of Good Hope. Communicated by Mr. Anderson from the Chelsea Garden, who received seeds from Mr. Otto, of the Royal Garden in Berlin. Mr. Anderson informs us that there are two varieties cultivated at Kew, one with paler and the other with deeper coloured flowers.' [BM t.2144/1820]. Mesembryanthemum tricolor was introduced to Britain in 1795. [JD].
History at Camden Park
Figured in the 1850 and 1857 catalogues [H.143/1850].
Notes
Published Oct 10, 2009 - 02:24 PM | Last updated Feb 12, 2012 - 02:52 PM
---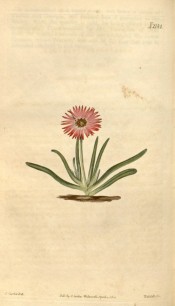 More details about Dorotheanthus apetalus (L.f.) N.E.Br.
Family
Aizoaceae
Category
Region of origin

South Africa

Synonyms

Mesembryanthemum pyropaeum Haw.
Mesembryanthemum tricolor Willd.
Dorotheanthus gramineus (Haw.) Schwantes
Dorotheanthus copticus (Jacq.) L.Bolus
Cleretum gramineum (Haw.) N.E.Br.

Common Name

Livingstone daisy

Name in the Camden Park Record

Mesembryanthemum pyropaeum

Confidence level
high