Cistus villosus L. var. undulatus
Frost hardy, compact shrub with ovate, wavy-margined, deeply veined leaves and terminal cymes of 3-5 purple-pink flowers, to 6cm across, in summer. To 1m. [RHSE, Hortus, Hilliers'].
Horticultural & Botanical History
'Being a native of Greece, the present species is rather tender, and is very apt to be killed, when exposed to the open air of our climate in Winter; this will partly account for its present scarcity; and being so much like C. villosus and C. undulatus in common appearance, it is often confused with these species in collections; and the C. purpureus is generally sold for it at the Nurseries, which is also a native of Crete; but the fine dark spots at the base of its petals, has rendered it an object of more care than most of the other species, that are not so showy.' [Sweet – Cistinae t.27/1825-30].
'The true Sweet Gum Cistus of Candy. Cistus landifera vera Cretica. This shrub grows to be two or three foot high, the leaves are a grass green, the flowers a pale red with a large purple spot in ye end, next the seed vessel. It grows in ye Island of Candy, & other places in ye Archipelago & flowers in July. From the tree comes the Gum Labdanum of ye shops, which some commend as good for looseness and gripes, caused by sharp humours. The fume of it comforts the brain, & stops catarrhous defluxions. Outwardly applied, it is accounted strengthening to the stomach, and stays vomiting.' [Blackwell pl.197/1737].
Introduced to England in 1640. [JD].
History at Camden Park
First listed in a handwritten note in an 1850 catalogue [MP A2947A] and subsequently in the 1857 catalogue [T.317/1857].
Notes
Published Mar 08, 2009 - 04:20 PM | Last updated Jul 16, 2010 - 02:45 PM
---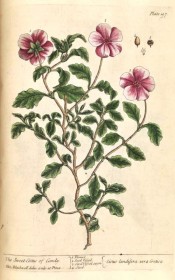 More details about Cistus villosus L. var. undulatus
Family
Cistaceae
Category
Region of origin

Mediterranean

Synonyms

Cistus vulgaris Spach
Cistus creticus L.
Cistus polymorphus Willk.
Cistus rotundifolius Sweet
Cistus incanus subsp. creticus (L.) Heyw.

Common Name

Rock rose

Name in the Camden Park Record

Cistus rotundifolius

Confidence level
high