Carica papaya L.
Unbranched, evergreen, dioecious tree with deeply lobed, palmate leaves and yellow flowers followed by yellow to orange, fleshy, edible fruit. source of the enzyme papain. To 6m. [RHSD, Hortus].
Horticultural & Botanical History
'The native country of the Papaw [sic] Tree is almost as difficult to determine as its situation in a Natural series; writers on the East, and writers on the West Indies being equally disposed to claim it as an aboriginal of their respective countries. […] As a medicinal plant, the Papaw Tree is particularly deserving of notice. Hernandez long ago spoke of the milky juice of the unripe fruit as a powerful vermifuge. […] a single dose .[…] is sufficient to cure the disease, however abundant the worms may be. […] But the most extraordinary property [is] that water impregnated with the milky juice of this tree is thought to make all sorts of meat washed in it very tender [due to the enzyme papain]; but eight or ten minutes steeping, it is said, will make it so soft that it will drop in pieces from the spit before it is well roasted, or turn to rags in the boiling.' [BM t.2898-2899/1829]. Introduced to Britain in 1690. [JD].
History at Camden Park
Seed was sent from Tahitit by Bidwill probably in late 1845. Macarthur wrote on 7th August 1846: 'Of the first batch [of seeds sent] not a native Tahitian seed vegetated. The Hibiscus moschato-speciosus, Asclepias curassavica and Carica however came up well and are doing well.' [MP A2933-2, p.189]. Eighteen plants of Carica papaya were presented to the Sydney Botanic Gardens by William Macarthur on 27th September 1847 [RBGS AB].
Notes
The fruit of Carica papaya is sometimes referred to as Pawpaw, but this also referrs to the American tree Asimina triloba Dun. which see.
Published Feb 19, 2009 - 04:38 PM | Last updated Jul 16, 2010 - 02:15 PM
---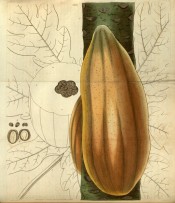 More details about Carica papaya L.

| | |
| --- | --- |
| Family | Caricaceae |
| Category | |
| Region of origin | Tropical America |
| Synonyms | |
| Common Name | Papaya |
| Name in the Camden Park Record | Carica sp. |
| Confidence level | high |