Bomarea salsilla (L.) Mirb.
Frost-tender, tuberous-rooted, twining, climbing perennial with 1-4 flowers per stem, pink with green tips outside and copiously spotted with claret brown inside. It seems to be a very variable plant with descriptions in the literature varying accordingly. [RHSD, Baker Am.].
Horticultural & Botanical History
First described by Linnaeus as Alstroemeria salsilla in 1762 [Planta Alstroemeria p.10/1762]. transferred to Bomarea as Bomarea salsilla by Mirbel in 1804 [Hist. Nat. Pl. vol.9, p.71/1804]. This is the generally accepted name today.
'This elegant climbing plant [Alstroemeria salsilla] is a native of South America and St. Domingo, growing in shady places, twining around other plants: its tuberous roots are said to be eaten as potatoes. With us it requires the stove, and should be potted in light rich earth, composed of one-half rotten dung and the rest loam and peat. The stems come up in spring, and will run nearly ten feet in height, producing many flowers, which last a long time. After flowering the stems decay. The roots may be divided in spring, and thereby sparingly increased.' [LBC no.1683/1832].
Considered by some authors to be synonymous with Alstroemeria edulis but usually separated. 'This species [Alstroemeria edulis] very much resembles the A. salsilla. The principal and almost only distinction is that the roots of the Salsilla are long and ligneous, while those of the edulis are round and succulent, about the size of young potatoes, and when boiled are said to be a light and delicate food.' It was introduced by Timothy Evans, who received it from Dr. Anderson of the St Vincent Botanic Garden in 1801. [ABR pl.649/1812]. In its native habitat the tubers of B. edulis are eaten like those of the Jerusalem artichoke. [JD].
History at Camden Park
Listed in the 1845, 1850 and 1857 catalogues. [B.29/1845].
Notes
See also Bomarea salsilla (L.) Mirb. var. oculata.
Published Jan 11, 2009 - 02:01 PM | Last updated Mar 24, 2012 - 01:50 PM
---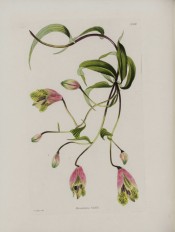 More details about Bomarea salsilla (L.) Mirb.
Family
Alstroemeriaceae
Category
Region of origin

South America

Synonyms

Bomarea granatensis M.Roem.
Bomarea oculata (Lodd.) M.Roem.
Bomarea praecipua Herb.
Bomarea subfalcata Herb.
Alstroemeria salsilla L.
Alstroemeria oculata Lodd.

Common Name
Name in the Camden Park Record

Alstroemeria salsilla

Confidence level
high