Berberis buxifolia Lam.
Half hardy, upright, evergreen shrub with arching branches, spine-tipped, dark green leaves and dark orange-yellow flowers emerging from the tufts of leaves in spring and summer, followed by edible, purple-blue grape-like berries. To 2.5m but generally smaller in cultivation. [RHSE, Hilliers', Hortus].
Horticultural & Botanical History
'This a native of the Straits of Magellan, and other southern parts of America, and has been lately introduced by Captain King. It forms a low straggling shrub, and flowered with us in April, protected by a cold frame, but in all probability it will prove to be quite hardy enough for our winters.' [LBC no.1941/1833].
'Our object in producing a figure of this beautiful shrub [Berberis dulcis], which has now been in the country about thirteen years, is to show how very ornamental it is when covered with its handsome fruit, and to press our readers to cultivate it more, with a view to the production of its fruit. […] An evergreen shrub, of a rigid habit, sometimes attaining a height of four or five feet, but more generally keeping about three feet high. Its branches are a little inclined to turn downwards towards the top, and bear a considerable number of spines, with clusters of small foliage. The flowers issue from amidst the tufts of leaves, and are solitary, drooping on long stalks, large, bright deep yellow, and more expanded than in some species. They are succeeded by fine roundish berries, of a rich purple tint. […] In Britain is entirely hardy. There is no difficulty whatever about its culture, as it will flourish in any garden soil.' From the Straits of Magellan. This description accords with B. buxifolia. [MB p.171/1843].
Introduced to Britain in 1827, grown from seed collected by Mr. Anderson, botanical collector on Captain King's survey of the Magellan Straits, and raised by Mr. Low of Clapton. [JD, BM t.6505/1880].
History at Camden Park
Listed only in the 1857 catalogue [T.145/1857].
Notes
Curtis's Botanical Magazine commented on some of the difficulties with the genus Berberis: 'The nomenclature of the species of Berberis presents many difficulties, though I am satisfied as to the present plant being the B. buxifolia of Lamarck, figured in his "Illustrations" of 1802, and B. dulcis of Sweet, published in 1838.' [BM t.6505/1880].
Published Feb 26, 2009 - 05:29 PM | Last updated Jul 14, 2010 - 05:04 PM
---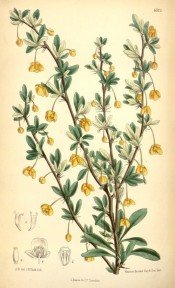 More details about Berberis buxifolia Lam.

| | |
| --- | --- |
| Family | Berberidaceae |
| Category | |
| Region of origin | South America |
| Synonyms | |
| Common Name | Sweet-fruited barberry |
| Name in the Camden Park Record | Berberis buxifolia |
| Confidence level | high |