Primula sinensis 'Purpurea'
A cultivar of Primula sinensis Sabine ex Lindl. Half hardy, erect, rosette-forming evergreen perennial with thick stems bearing whorls of decreasing size of wavy-margined purple to pink flowers, to 5cm across and usually with yellow eyes, in winter and early spring. Purpurea is a pink to purple cultivar. To 20cm. [RHSE, Hortus].
Horticultural & Botanical History
'One of the many objects which occupy the attention of the Horticultural Society is the introduction of ornamental plants to the gardens of this country, and the free distribution of them when procured; a purpose which the rare union of wealth, interest and liberality, which it possesses, cannot fail to ensure its attaining most successfully. The knowledge of what plants of this description particular regions produce, was obviously one step towards obtaining them. But as it is difficult to form a very correct idea of their beauty from the appearance they assume when dried, in which state only a great proportion of tropical vegetables is known to residents in Europe, it was determined by the Society that a person should be employed in making drawings of plants in the countries where they grow. For several reasons China was selected for a beginning; and particularly as being the residence of John Reeves, Esq. a corresponding and very active member of the Society, under whose immediate superintendence the draughtsman could be placed. By the direction of this gentleman, a considerable number of drawings have already been sent to England and many of the plants they represent introduced. Among those which were received in the year 1819, was a drawing of what appeared to be a very handsome gigantic species of Primula, accompanied by dried specimens which confirmed the general accuracy of the figure. The attention of the Society was so strongly attracted by its beauty, that it was immediately ordered to be sent home. Seeds and a plant were accordingly procured at Canton by Mr. Reeves; but the latter unfortunately perished during its passage, and the seeds, of which there was an abundance, did not vegetate. Captain Reeves [sic, probably Rawes intended] has, however, been subsequently more fortunate; having succeeded in bringing a plant over alive, which he presented to his relation Thomas Palmer, Esq. of Bromley, Kent. Last autumn this plant produced an imperfect flowering stem; and this spring has broken forth in great beauty. The inflorescence, however, has not yet attained its full size; for in China the umbel of flowers is compound, instead of simple, and as much more beautiful as it is larger. A superb drawing has been made from the plant for the Horticultural Society, by Mr. Hooker; of which the Council has most liberally allowed us to avail ourselves, with the approbation of Mr. Palmer. We should not omit to state, that the leaves represented in our plate were sketched last autumn; and the flowers added this spring. Mr. Hooker informs us, that at present the leaves are not half so large as they were at that time.' [CB t.7/1821].
Although only introduced around 1820, by 1838 there were a growing number of flower forms of Primula sinensis including doubles, in a range of colours: 'Mr. Henderson of Pine Apple Nursery, has 2 varieties of Chinese Primrose, with double blossoms, one has flowers of a cream colour, the other is of a pale rosy lilac colour; both kinds are very pretty.' [FC p.46/1838]. Paxton's Magazine of Botany, in stating that 'most persons are aware that the Chinese primrose sports into many varieties, some of which are greatly preferable to others', gave one good reason for its popularity with florists. [MB p.23/1842]. '[P. sinensis] is a common plant, yet, perhaps hardly so much prized or so well cultivated, as it deserves to be; for though wanting the gaiety and variety of colour of the Pelargoniums and other popular favourites, it is, when well grown, certainly handsome; but its principal value is deemed for its blooming in winter when flowers are scarce.' [Gard. Chron. 1853]. 'What more useful flower have we than [the Chinese Primrose]? My greenhouse at the present time is as gay as it well can be with some well-grown plants, of all the best varieties of it . Some of my sorts, all of which I raise from seed every year, have flowers which measure upwards of an inch and a half across, and in colour are of a deep glowing crimson.' [Gard. Chron. 1855]. In a report on Glendinning's Nursery, Turnham Green, a correspondent of The Gardeners Chronicle saw 'as fine Chinese Primulas as perhaps ever graced a greenhouse stage. They consisted of double varieties, white and pink, covered with flowers, each plant measuring about fifteen inches in height, and as much in diameter.' [Gard. Chron. 1856].
In addition to the beautiful illustration in John Lindley's Collectanea Botanica quoted above Primula praenitens var. purpurea is figured in the Botanical Register, Curtis's Botanical Magazine and Loddiges' Botanical Cabinet in this period. It was 'drawn from a plant (we believe the only one in the country) which flowered last March in the collection of Mrs. Palmer, at Bromley in Kent. It had been brought by Capt. Rawes from the gardens in Canton.' [BR f.539/1821]. Curtis's Botanical Magazine figured a pink flowered form. 'In the present month [March 1825], at the Horticultural Society's establishment at Chiswick, we were delighted with seeing a large collection of these plants under glass in the front of one of the houses; when viewed in this manner assembled many together, they are seen to much greater advantage than in detached individuals.' [BM t.2564/1825]. Also figured in Loddiges' Botanical Cabinet. [LBC no.916/1824].
History at Camden Park
Listed in all published catalogues [H.202/1843]. 'Eagerly sought for by gardeners and other growers generally, we find, as we travel through the country villages, these pretty blooming plants gladdening the eye of the traveller by the way-side. Again we see the cottager's window clad with their pretty pink-and-white blossoms; but although we see them thus here and there, and almost everywhere, yet we find, in nine instances out of ten, the plants have not the compost suitable for their growth, and to produce the beautiful display they are capable of, and would realise, if grown in one that suits them.' Mr. H. Stilwell Pine-Apple Place Nursery, London, goes on the give detailed instructions for the proper cultivation. [FC p.303/1852]. William Macarthur gave somewhat briefer, but very pertinent instruction on how to grow Chinese primroses in a letter to Thomas Barker, dated 9th July, 1844: 'They merely require to be kept constantly in the shade in circumstances they require very little water.' [MP Vol. 37, A2933-1, p.48].
Notes
Published Oct 14, 2009 - 04:58 PM | Last updated Sep 05, 2011 - 04:53 PM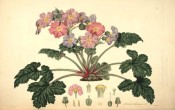 Family
Primulaceae
Category
Region of origin

China

Synonyms

Primula chinensis Auct. var. purpurea
Primula praenitens var. purpurea Ker-Gawl.

Common Name

Chinese primrose

Name in the Camden Park Record

Primula sinensis purpurea

Confidence level
high