Hibiscus liliiflorus Cav.
Frost-tender, evergreen shrub or small tree with entire, sometimes trifid, lance-shaped leaves and variable bell-shaped flowers, from pink to scarlet. To 3m. [Don].
Horticultural & Botanical History
'This elegant plant, of which there are many varieties, was introduced by Mr. Barclay, a few years since. It grows freely, and flowers during the summer. [LBC no.1995/1833].
It is figured in Curtis's Botanical Magazine as Hibiscus Genevii, the flowers shown as whitish-pink, scarlet towards the base of the petals. 'This superb Hibiscus, Professor Bojer had long known as an inhabitant only of the gardens of cultivators: but lately, he says, "having made an excursion to the Rivière noire, and stopped at the house of M. Genéve, a zealous cultivator, with whom I remained some days, occupied in examining the curious plants in his garden, when my attention was struck by the languid appearance of this Hibiscus, which M. Genéve assured me that he had been in the habit of seeing in the forests of the Rivière noire, and of transporting to his garden for a period of twenty years; but that he could never cultivate it with success. The next day he conducted me to the mountains, where I found many trees of the Hibiscus, of considerable size, and covered with flowers: and where I made on the spot my drawing and description." Professor Bojer has distinguished it by the name of his intelligent host, to whom we are indebted for the discovery of its place of growth. If this shrub be not already in our collections, as I suspect it is, through the influence of Mr. Telfair and the late Mr. Barclay, cultivators should hasten to procure what would prove so great an ornament to the stove. M. Bojer refers it to the " Cremontia" tribe, notwithstanding that the corolla is not "convoluto-cylindracea," where it ranks with H. liliiflorus, Boryanus, and fragilis, all natives of the Mauritius as well as of Bourbon.' [BM t.3144/1832]. The hybrid Hibiscus liliiflorus x H. rosa-sinensis is also figured in Curtis's Botanical Magazine [BM t.2891/1829].
Cultivated in Britain since 1822. [Don].
History at Camden Park
Listed in all published catalogues [T.541/1843].
Notes
Hibiscus liliiflorus Griff. ex Mast (1872) = Hibiscus rosa-sinensis L.
Published Jan 11, 2010 - 03:41 PM | Last updated Jan 11, 2010 - 03:47 PM
---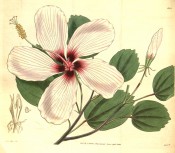 More details about Hibiscus liliiflorus Cav.

| | |
| --- | --- |
| Family | Malvaceae |
| Category | |
| Region of origin | Mauritius and Seychelles |
| Synonyms | |
| Common Name | |
| Name in the Camden Park Record | Hibiscus lilieflorus |
| Confidence level | high |