Viola tricolor L.
Fully-hardy annual, biennial or short-lived evergreen perennial with a succession of flowers in shades of purple, lavender-blue, white or yellow, and many combinations of these, from late winter to spring. The flowers usually have dark purple upper petals and lighter coloured lower petals. Self-seeds very readily. To 15cm or more. The common garden pansies of today are recognised as complex hybrids of, mainly, Viola tricolor, V. lutea and V. cornuta. [RHSE, Hortus].
Horticultural & Botanical History
The originator of the improved 'Heartsease' was Mr. Thomson of Iver, gardener to Lord Gambier. He describes his early work in an article in the Flower Gardener's Library, reproduced in the Floricultural Cabinet. 'About seven or eight and twenty years ago [c.1814], Lord Gambier brought me a few roots of the common yellow and white Heartsease, which he had gathered in the grounds at Iver, and requested that I would cultivate them. Always eager to please my worthy and ever-to-be lamented master, I did so, saved the seed, and found that they improved far beyond my most sanguine expectation. In consequence thereof I collected all the varieties that could be obtained. From Brown of Slough, I had the blue; and from some other person, whose name I do not recollect, a darker sort, said then to have been imported from Russia. These additions wonderfully improved my breeders. But still, though the varieties I soon obtained were multitudinous, their size was almost as diminutive as the originals. Nevertheless his lordship was pleased, and thus I was amply rewarded. Up to this period, which was about four years after my commencement, I began imperceptibly to grow pleased with the pursuit, for all who saw my collection declared themselves delighted therewith. I then began to think that some of my sorts were worthy of propagation; and this circumstance led me to give one, which took his lordship's fancy, a name. This was entitled Lady Gambier, and as I struck cuttings of it, they were given as presents by my worthy employers to their numerous friends and acquaintances […] though in comparison with the worst flower now grown […] would even beside them be reckoned little better than a weed. Still Lady Gambier was the beauty of her tribe, and won golden opinions from every beholder. It was, indeed, in shape little more symmetrical than a child's windmill, but looked in size among the sisterhood like a giant surrounded by dwarfs. But the giant of those days would be a pygmy now, as Lady Gambier herself appeared in comparison with another flower, which I soon after raised, and which, on account of what I considered its monstrous proportions, I christened Ajax. This I then thought could never be surpassed, and yet in shape it was as lengthy as a horse's head. Still I had worked wonders, and I resolved to persevere. I did so, and was at length rewarded by producing rich colouring, large size, and fine shape. The first large and good shaped flower that I raised was named Thompson's King. Still, up to this period, a dark eye, which is now considered one of the chief requisites in a first-rate flower, had never been seen. […] In looking one morning over a collection of heaths […] I was struck, to use a vulgar expression, all of a heap, by seeing what appeared to me a miniature impression of a cat's face steadfastly staring at me. It was the flower of a Heartsease, self-sown, and hitherto left 'to waste its beauty far from mortal's eye.' […] This first child of the tribe I called Madora, and from her bosom came the seed, which after various generations produced Victoria, who in her turn has become the mother of many even more beautiful than herself. [FC p.222/1841]. Saint-Hilaire pl.202/1830.
History at Camden Park
Listed in the 1845, 1850 and 1857 catalogues [H.236/1845]. 'Best mixed' Heartsease seed was ordered from Hurst and McMullen, Seedsmen and Florists of London, on 8th April 1846. I have found no specific reference to pansies or to named varieties but considering William Macarthur's often reiterated desire for 'splendid varieties' and 'the newest and best flowers', it seems likely that he obtained 'only the very best' for his garden.
Notes
Florist's pansy: The principal florist's flower of the genus Viola is undoubtedly the pansy, now of complex hybrid origin but originally selections of Viola tricolor. The catalogue Viola tricolor plants may well be hybrid pansies. 'The flower stalk should be strong, straight, and of a proper height, so that the flowers may be above the foliage. The flower should be large, forming a circle; the petals should be large, flat, substantial, and as round as may be consistent with their peculiarly beautiful figure; their edges should be perfectly entire, without notch, fringe or indentation. The eye should be rather small, the stigma filling the open part of it. The colour should be clear and distinct when diversified in the same flower, or brilliant and striking if it consists only of one colour, as purple, etc; the colour should be permanent, and the eye not deeply pencilled.' [FC].
'Heartsease' certainly possesses in abundance that most desirable attribute of a potential florist's flower, variability. They self-seed in my garden every year and flower in almost every possible combination of purple, blue, mauve, yellow and white. Some in predominantly dark colours, others in only yellow and white. Some splashed with dark or light colour to resemble ears or eyes. If pansies are left to naturalise in a garden bed, plants indistinguishable from V. tricolor will usually start appear in the first generation. There were many garden varieties of Viola tricolor in Victorian times, usually named for the combination of colour and pattern on the flowers. 'Heart's-ease is the general name by which it is known; its more elegant name, Pansies, is from the French pensée. The meaning is alluded to by Shakespeare in Hamlet, - 'There's pansies, that's for thoughts.' [Don]. He lists 14 varieties, all naturally occurring, which attests to the huge variation present in the plant. The early pansies were selected varieties of V. tricolor, large numbers of which are figured in the pages of the Floricultural Cabinet and other periodicals.
Published Jan 31, 2009 - 04:24 PM | Last updated Aug 01, 2010 - 03:24 PM
---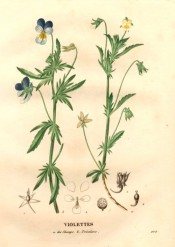 More details about Viola tricolor L.

| | |
| --- | --- |
| Family | Violaceae |
| Category | |
| Region of origin | Europe, Asia |
| Synonyms | |
| Common Name | Heartsease, Love in idleness, Wild pansy, Johny-jump-up |
| Name in the Camden Park Record | Viola tricolor |
| Confidence level | high |