Thuja occidentalis L.
Fully-hardy, rounded, conical evergreen tree, with horizontally spreading branches, up-curved at the tips, shredding orange-brown bark, ovate, yellowish leaves, and ovoid female cones, to 1cm long. To 20m. [RHSE, Hortus, Hilliers'].
Horticultural & Botanical History
Introduced to Britain in 1596. [JD]. 'In wet soil and along the banks of streams, forming almost impenetrable forests northward, New Brunswick to James' Bay and Manitoba, south to New Jersey, along the Alleghanies to North Carolina, Tennessee and to Illinois and Minnesota. Ascends to 3500 ft. in the Adirondacks. Wood soft, brittle, weak, coarse-grained, light brown: weight per cubic foot 20 Ibs. Called also False White and Feather-leaf Cedar. May-June.' [Britton vol.1, p.65]. 'Concerning the etymology of Thuja, Dr. Mayrhoffer says (Essay on Thuja occidentalis, Metcalf's Provings, N.Y., 1853): "In the time of Francis I, king of France [1494-1547], this tree was imported into France from Canada. The first specimen was seen by Clusius in the royal garden of Fontainebleau, and a tolerably correct figure and description of it were furnished by him under the name of arbor vitae. (Caroli Clusii Rarior. Plantar. Histor., 1601.) The Greek name […] from suffre, to fumigate, points to a resinous tree, and is first seen in Theophrastus Lesbius, a disciple of Aristotle. […] He describes a tree resembling the cypress, and […] Roman authors Latinized the word […] changing it to Thya, Thuya, Thuia, Thuja. […] The native region of the Thuja of Theophrastus, according to his account, is the territory of Cyrene, in Africa, and especially the region in which the temple of Jupiter Ammon was situated; whereas our Thuja is a native of North America." It would seem by this that the Thuja of Theophrastus is Thuja articulata, Vahl., a native of Barbary.' [Medicinal Plants – an Illustrated and Descriptive Guide. Millspaugh. vol.2, p.165, pl.165/1892].
History at Camden Park
Listed only in the 1857 catalogue [C.90/1857].
Notes
Published Aug 05, 2009 - 05:23 PM | Last updated Jul 16, 2010 - 05:15 PM
---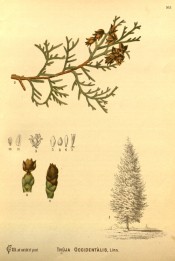 More details about Thuja occidentalis L.

| | |
| --- | --- |
| Family | Cupressaceae |
| Category | |
| Region of origin | Eastern North America |
| Synonyms | |
| Common Name | American arbor-vitae, White cedar |
| Name in the Camden Park Record | Thuja occidentalis |
| Confidence level | high |