Sutherlandia frutescens R.Br.
Frost-tender evergreen shrub with slender, erect, twiggy, white-downy stems, pinnate leaves and axillary racemes of bright red, pea-like flowers in spring and summer, followed by greenish-yellow or red-flushed seed pods. To 2m. [RHSE, Hortus, Hilliers'].
Horticultural & Botanical History
'Of the several species of Colutea cultivated in our gardens, the one here figured, is distinguished by the brilliancy of its flowers, the largeness of its pods, and the downy appearance of the under side of its leaves.
It appears from the Hortus Kewensis to have been cultivated by Mr. James Sutherland as long since as the year 1683, it was not however generally introduced to our gardens till the time of Miller, who figured it in his Icones, it was then understood to be an Ethiopian plant; Mr. Aiton since describes it as a native of the Cape also; of course, we find it more tender than most of its kindred, and hence it is usually regarded as a greenhouse plant; yet, as it is not destroyed by a small degree of frost, it will frequently, like the myrtle, survive a mild winter in the open border, especially if trained to a wall: it is rarely of more than two or three years duration.
It is readily raised from seeds sown in the open ground, plants from which flower the August following, and, in favourable seasons, ripen their seeds; in order, however, that they may ripen them with more certainty, Miller, reccomends the sowing them early on a gentle hot-bed. A dry soil suits this species best.' [BM t.181/1792]. Don.
History at Camden Park
Listed in all published catalogues as Colutea frutescens [T.338/1843]. Sutherlandia fruticosa is also listed in all published catalogues [T.950/1843]. These are probably the same species, now correctly called Sutherlandia frutescens R.Br. Widely naturalised in New South Wales and elsewhere in Australia.
Notes
Extracts of this plant are used in cancer treatments, hence its common name of Cancer Bush.
Published Dec 13, 2009 - 04:17 PM | Last updated Jul 21, 2010 - 02:32 PM
---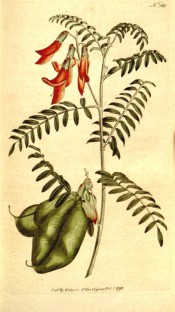 More details about Sutherlandia frutescens R.Br.
Family
Fabaceae
Category
Region of origin

Southern Africa

Synonyms

Colutea frutescens L.
Lessertia frutescens (L.) Goldblatt & J.C.Manning

Common Name

Balloon pea, Duck plant, Cancer bush

Name in the Camden Park Record

Colutea frutescens

Sutherlandia fruticosa

Confidence level
high