Clinanthus incarnatus (Kunth) Meerow
Bulbous perennial with umbels of up to 6 pendant, tubular, white, yellow, pink or scarlet flowers produced in spring, the strap-shaped leaves produced with the flowers but elongating to 75cm after flowering. To 60cm. [RHSE, Baker Am.].
Horticultural & Botanical History
First botanically described by Kunth in 1816 as Pancratium incarnatum [Nov. Gen. Sp. vol.1, p.280/1816]. Placed in Clinanthus by Meerow in 2000 [Syst. Bot. vol.25, p.723/2000].
The plant figured in the Ornamental Flower Garden had 'flowers of a brilliant glossy orangey-salmon colour.' [OFG f.196/1854]. Stenomesson variegatum var. acutum Bak., synonym Coburgia acutum Herb., differs from the species in having flowers with a very narrow perianth tube. [Baker Am.]. Coburghia incarnata was introduced to Britain in 1826. [JD]. Herbert plate 47/1837.
History at Camden Park
Listed in the 1845 catalogue only.
Notes
Published May 27, 2009 - 05:12 PM | Last updated Aug 10, 2012 - 04:57 PM
---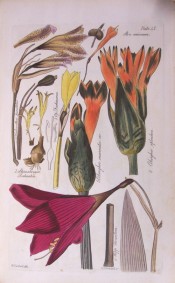 More details about Clinanthus incarnatus (Kunth) Meerow
Family
Amaryllidaceae
Category
Region of origin

South America

Synonyms

Coburgia acuta Herb.
Chrysiphiala trichroma (Cerv.) Schult. & Schult.f.
Coburgia acuta Herb.
Coburgia incarnata (Kunth) Sweet
Coburgia quitensis (Schult.) Roem.
Coburgia splendens Herb.
Coburgia trichroma (Cerv.) Herb.
Coburgia versicolor Herb.
Pancratium incarnatum Kunth
Pancratium quitense Willd. ex Schult. & Schult.f. WCSP
Pancratium trichromum Cerv.
Stenomesson acutum (Herb.) Baker
Stenomesson incarnatum (Kunth)
Stenomesson splendens (Herb.) Ravenna
Stenomesson trichromum (Cerv.) Ravenna

Common Name
Name in the Camden Park Record

Coburghia acuta

Confidence level
high