Sinningia speciosa 'Fyfiana'
Cultivars of Sinningia speciosa (Lodd.) Hiern, convariety fyfiana cultivars are distinguished by their erect, or nearly erect, bell-shaped, regular corolla. Flowers are white, shading to pink, yellow or orange red and violet, variously striped, spotted or blotched, or in combinations of these. They were first raised by John Fyfe, a gardener at Rothesay in Scotland in 1845. [Moore].
Horticultural & Botanical History
The original Gloxinia fyfiana was figured in the Floricultural Cabinet in 1847 [FC p.49/1847] and Flore des Serres, the latter giving its probable origin as 'Maxima' crossed with an unknown parent, possibly 'Caulescens'. It was figured with white flowers, flushed blue in the throat. [FS f.311/1848].
Perhaps the first detailed description was given in an advertisement from Drysdale and Co. of Glasgow in 'The Gardeners Chronicle' in October 1846: 'This new and admired variety was raised from seed and bloomed for the first time in 1845. The form and habit of the Flower is different from all former varieties, being equally round and large, supported on strong erect stems, standing perfectly upright like a cup or inverted bell. When the blossoms expand they are white, with a slight tinge of purple outside; the throat is of a deep shaded purple all round, and at the lower part the ground colour is nearly the same as the outside, beautifully spotted with purple.'
History at Camden Park
Only recorded in a handwritten entry in a copy of the 1850 catalogue held at the Mitchell Library and inscribed on the front Wm. Macarthur, 23rd Dec. 1854. [ML635.9m]. Certainly grown in the gardens at this time.
Notes
Sinningia fyfiana is stated by some to be a hybrid of Sinningia speciosa (Lodd.) Hiern and Gloxinia crassifolia Hort. or Gloxinia gigantea Hort., both of which are invalid names for varieties of Sinningia speciosa.
Published Sep 06, 2009 - 03:18 PM | Last updated Aug 21, 2011 - 02:59 PM
---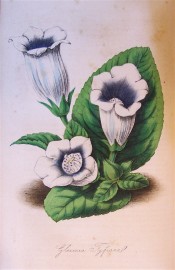 More details about Sinningia speciosa 'Fyfiana'
Family
Gesneriaceae
Category
Region of origin

Garden origin, Scotland

Synonyms

Sinningia speciosa (Lodd.) Hiern convariety fyfiana
Gloxinia fyfiana Hort.Angl. ex Lem.

Common Name

Gloxinia, Florists' Gloxinia

Name in the Camden Park Record

Gloxinia Fifiana

Confidence level
high