Polianthes tuberosa L.
Frost-tender tuberous perennial with a basal rosette of semi-erect, thin, lance-shaped leaves and spikes of tubular, intensely fragrant, waxy white flowers in summer. To 1.2m. [RHSE, Hortus].
Horticultural & Botanical History
First described by Linnaeus as Polianthes tuberosa in 1753 [Sp. Pl. p.316/1752].
Introduced to Britain in 1629. [JD]. Long cultivated in all parts of the world for its fragrant flowers. 'Clusius was in possession of this plant in 1594, and is, we believe, the first writer who mentions it.' [BR f.63/1815]. 'It seems evidently to have been first brought into Europe from the East-Indies, and hence it has commonly been said to be a native of that country; yet Mr. Salisbury, in his elaborate account of this plant, in the first volume of the Transactions of the Horticultural Society, has shewn that there is no proof whatever of its having been found wild in any part of the East; but that it is a native of Mexico, as appears from Hernandez, in his History of the Plants and Animals of that Country. From thence it was probably conveyed to the East-Indies, where the cultivation of it was speedily and widely spread, for the sake of the fragrance of its flowers, a quality held in such high esteem. The English name, which seems absurd enough, is evidently a corruption of the French Tubereuse; the name by which it was most probably imported into this country, as it is said to have been first cultivated in the neighbourhood of Toulon.' [BM t.1817/1816].
History at Camden Park
Listed in all published catalogues [B.401/1843]. Received per 'Sovereign' February 1831 under the name single Tube rose. [MP A2948].
Notes
Published Jan 18, 2009 - 11:35 AM | Last updated Jan 17, 2012 - 04:57 PM
---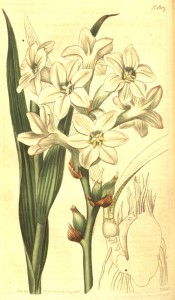 More details about Polianthes tuberosa L.
Family
Agavaceae
Category
Region of origin

Mexico

Synonyms

Agave tuberosa (L.) Thiede & Eggli
Agave polianthes Thiede & Eggli
Crinum angustifolium Houtt.
Polianthes gracilis Link.
Tuberosa amica Medik.

Common Name

Tuberose

Name in the Camden Park Record

Polyanthes tuberosa

Confidence level
high