Pinus teocote Schied. ex Schldl. & Cham.
Frost-hardy tree with thick, furrowed bark towards the base of the trunk, orange-red to brown and thinner above, needles usually 3 per fascicle, and solitary or paired, ovoid cones, to 9cm. To 30m. [RHSD, Hortus].
Horticultural & Botanical History
Introduced to Britain in 1826. [JD]. 'Pinus teocote Schlecht. & Cham. Nuevo Leon to Tepic and Chiapas; type from Mount Orizaba. Tree, 20 to 35 meters high; bark at first thin, red, deciduous, in age thick and rough; leaves 10 to 20 cm. long; cones spreading or reflexed, brown or sublustrous. The following names are said to be applied to the tree in various localities: "Jalocote," "xalcotl" (Nahuatl), "ocote," "ocotl," "pino real." The tree produces turpentine ("ocotzol," "trementina de pino," "trementina de ocote") which is used in medicine as a balsamic stimulant, and for other purposes for which turpentine is generally employed. The tar ("brea") remaining after the distillation of turpentine is used for making torches, in soap, etc.' [Contributions from the US National Herbarium – Trees and Shrubs of Mexico vol. 23 part 1, p.56/1920]. Leaves, female cones and seeds are figured in Die Coniferen. [Die Coniferen t.XV/1840-41].
History at Camden Park
Listed in the 1845, 1850 and 1857 catalogues [C.75/1845].
Notes
Published Jul 23, 2009 - 05:16 PM | Last updated Jul 29, 2010 - 03:26 PM
---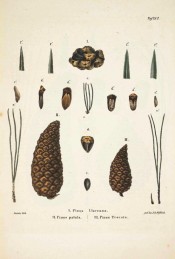 More details about Pinus teocote Schied. ex Schldl. & Cham.

| | |
| --- | --- |
| Family | Pinaceae |
| Category | |
| Region of origin | Mexico |
| Synonyms | Pinus teocote macrocarpa Shaw |
| Common Name | Twisted leaf pine |
| Name in the Camden Park Record | Pinus Teocote |
| Confidence level | high |