Pinus palustris Mill.
Fully-hardy, slow-growing erect, evergreen tree with densely crowded, flexible leaves, to 45cm long, and cylindrical cones, to 25cm long. To about 20m. [RHD, Hortus, Hilliers'].
Horticultural & Botanical History
Introduced to Europe in 1730. [JD]. 'Louisianian and Carolinian areas. From Cape Canaveral and Bay Biscayne, Florida, north along the coast to southern Virginia (Suffolk County), and westward to the Trinity Valley, Texas. Alabama: Coast plain to the Mountain region to an altitude of near 2,000 feet, forming the immense forests of the Coast and Central Pine belt, and lesser ones in the Coosa Valley. From Talladega County to the Georgia and Alabama State line. Scattered abundantly through the Metamorphic mountains, where this species ascends in Clay County to its greatest elevation on the Chehawhaw Mountain, 2,000 feet. More sparsely diffused in the lower part of the Warrior basin with an outlying forest in Walker County (South Lowell). Flowers middle of March. Type locality not ascertained. Michaux's locality: "Hab. a Carolina septentrionali ad Floridam presertimi maritimis." Economic uses: Of greatest importance for its timber, as well as for its resin.' [Contributions from the U.S. National Herbarium – Plant Life of Alabama v.6, p.323 /1901]. Leaves, female cones and seeds are figured in Die Coniferen. [Die Coniferen t.VI/1840-41].
History at Camden Park
Listed only in the 1843 catalogue. It was probably lost as Pinus australis was included among desiderata in a letter to John Lindley dated 15th February 1848 but was not marked 'arrived' on Macarthur's copy. [MP A2933-1, p.157].
Notes
Published Jul 24, 2009 - 03:23 PM | Last updated Jul 29, 2010 - 03:25 PM
---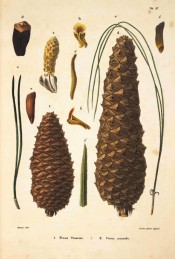 More details about Pinus palustris Mill.
Family
Pinaceae
Category
Region of origin

Eastern USA

Synonyms

Pinus longifolia Salisb.
Pinus australis Michx.f.

Common Name

Southern pitch pine, Longleaf pine, Swamp pine

Name in the Camden Park Record

Pinus palustris – swamp pine

Confidence level
high