Pinus oocarpa Schiede ex Schltdl.
Half hardy small to medium-sized conifer with glaucous young shootsand sea green mature leaves, to 30cm long, in threes to fives. Cones to 9cm long. To 15m. [Hortus, Hilliers'].
Horticultural & Botanical History
Introduced to Britain in 1829. [JD]. 'Pinus oocarpa Schiede. As cones of this species of Pinus have lately been received by the Horticultural Society from Mexico, and distributed among the Fellows, I extract the following particulars concerning it from the account given of the species by Professor Schlechtendahl. It was found by Schiede in abundance Jetween Ario and the volcano of Jorullo, not merely in the usual pine region, but also in warm districts, in company with the Fan Palm. It forms a tree from 30 to 40 feet high. The leaves are from eight to eleven inches long; the cones grow singly, and the species is nearly related to Pinus Montezume. It is to be presumed that it will prove one of the less hardy species.' [BR misc.23/1839]. Leaves, female cones and seeds are figured in Die Coniferen. [Die Coniferen t.XVI/1840-41].
History at Camden Park
Pinus oocarpoides was included in a consignment of plants sent from Kew by John Bidwill in November 1843 [AJCP] and it is very likely that these plants were sent to Camden to the care of William Macarthur. Macarthur reported in a letter to Loddiges' Nursery dated 6th January, 1845 that Pinus oocarpa was one of only a handful of plants likely to be lost from the latest importation, although the source of that importation is not clear it is likely to be Loddiges'. He may be referring to the Kew plant, although this seems unlikely. Pinus oocarpa was included again in desiderata in the same letter. [MP A2933-2, p.28].
Notes
Published Jul 12, 2009 - 04:05 PM | Last updated Jul 29, 2010 - 03:30 PM
---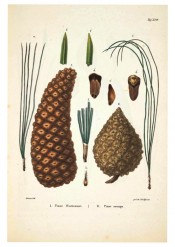 More details about Pinus oocarpa Schiede ex Schltdl.

| | |
| --- | --- |
| Family | Pinaceae |
| Category | |
| Region of origin | Mexico |
| Synonyms | Pinus oocarpoides Lindl. ex Loud. |
| Common Name | |
| Name in the Camden Park Record | Pinus oocarpa |
| Confidence level | high |