Paeonia suffruticosa Andr.
Fully-hardy, upright, sparsely-branched deciduous shrub with deeply cut leaves composed of 9 elliptic leaflets, and single or double, cup- to bowl-shaped, sometimes scented, white, pink, red or purple flowers, to 30cm across, often with maroon marks at the base, in spring and summer. To 2.2m. [RHSE, Hortus, Hilliers'].
Horticultural & Botanical History
It seems likely that the plant listed in the catalogues was a more ornamental cultivar than the type, probably a double form similar to the plant figured in the Botanical Register, Paeonia moutan var. albida plena: 'This noble variety of the Tree Paeony was raised by the Earl of Mountnorris from seeds of P. papavaracea.' The plant figured has double white flowers, red at the base of the petals. [BR f.1678/1834]. A very similar plant had previously been figured at BR f.379/1820.
Curtis's Botanical Magazine gives a succinct account of the history of this plant. 'The Moutan, though cultivated in China about fourteen hundred years, is considered in that ancient empire, according to the missionaries, as rather of modern introduction. The Chinese writers seem to differ in their accounts with regard to its origin, some attributing it to a particular process of culture, by which the common Peony has been converted into this magnificent shrub, sometimes attaining, as it is said, in the province of Lo-Yang, the soil and climate of which is particularly favourable, the height of eight or ten feet whilst others, perhaps with more probability, say it was first discovered growing among the mountains in Northern China, whence it was brought into the Southern provinces, and cultivated with the same rage as Tulips have been in Europe, and with a similar effect of producing numerous varieties, some of which, from their beauty and rarity, have been known to sell in China for a hundred ounces of gold. Notwithstanding the Chinese Florists differ from the European, in rejecting all variegated flowers, considering such as contrary to nature, they enumerate two hundred and forty species, as they are called, many of them of exquisite beauty and delightful fragrance.
Thunberg, as well as Loureiro, as is evident by his having given as synonyms both the Saku-Jaku and Botan of Kaempfer, considered this plant to be the same species with the Paeonia officinalis of Linnaeus, which is likewise cultivated in China, and much used there in medicine.
The Paeonia papaveracea of Andrews we suspect may be a mere variety of the Moutan with white flowers spotted with crimson; and that the singular union of six capsules into a globular seed-vessel with six cells, is an accidental sporting of nature. If this structure of the fruit be natural, it will afford not a specific but a generic distinction.
For the introduction of this valuable acquisition to our gardens, we are indebted to Sir Joseph Banks, who instructed several persons trading in Canton, to inquire for the Moutan, the name by which it is known in China; in consequence of which numerous specimens were sent to this country, most of them however perished in the voyage. Since that time several varieties have been imported in a growing state, but we have not seen any that were remarkable for the fragrance of their flowers.' [BM t.1154/1808].
Another double flowered form, of a bright carmine colour, is figured in the Ornamental Flower Garden under the name Moutan officinalis Lindl. var. punicea [OFG f.145/1854]. The double flowered variety rosea plena is figured at Fl.Ca. p.37/1839, a double pink form similar to rosea plena is figured at BM t.1154/1808 and a named variety, 'Triumphe de Gerard', with very double, bright pink flowers, at FS f.1395-1396/1859.
Introduced to Britain from China in 1789. 'Although introduced so long since, it is still rare; and must be treated as a very hardy greenhouse plant.' [ABR pl.373/1804]. 'All the plants hitherto received from China have double flowers.' Two varieties are listed, with rose and purple flowers. [ABR pl.448/1807].
History at Camden Park
Listed in all published catalogues [T.742/1843].
Notes
Published Jan 29, 2010 - 01:42 PM | Last updated Jan 29, 2010 - 01:48 PM
---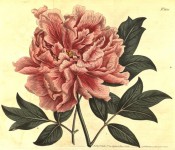 More details about Paeonia suffruticosa Andr.
Family
Paeoniaceae
Category
Region of origin

China, probably garden origin

Synonyms

Paeonia moutan Sims.
Paeonia arborea Donn

Common Name

Tree paeony, Moutan

Name in the Camden Park Record

Paeonia Moutan

Confidence level
high