Opuntia cochinellifera (L.) Mill.
Frost tender, shrubby or tree-like perennial cactus with flattened stem segments, few if any spines, and narrowly funnel-shaped, bright red flowers in spring and summer, followed by fleshy, spineless red fruit, to 4cm long. To 4m. The dye Cochineal is produced from insects grown on this cactus. It has been long cultivated in tropical America and elsewhere for this purpose. [RHSE, Hortus].
Horticultural & Botanical History
It was figured as Cactus coccinellifer in Andrews' Botanical Repository, with a detailed description of the breeding and harvesting of the cochineal insects. [ABR pl.533/1808].
'With regard, too, to that particular species of Cactus, which nourishes the Cochineal Insect, much doubt has existed; and we believe it must be allowed that our plant, which was named by Linnaeus, and has been almost universally called the C. cochinillifer, is not that which produces the best Cochineal; nor are we prepared to say, of what part of South America it is a native. Linnaeus speaks of it as indigenous to Jamaica and the warmer parts of the New world; but Sloane, who gives a very tolerable figure of it, says, that the plants he saw, in Mr. Worley's plantation, were brought from the main Continent of America, by a Spanish priest, and affirmed to be the species on which grew the Cochineal. We know our present subject to be the true C. cochinillifer of Linnaeus, by his references to various figures, especially to that of Dillenius, in the Hortus Elthamensis above quoted; and that author considers it may be the same as the Nocheznopalli or Nopelnochetzli, figured in Hernandez; except that, in the latter plant, the flowers are spreading, whilst in our's, the petals are connivent. He does not say where it is indigenous. In the Chelsea garden, according to Ray, it was cultivated prior to 1688, and was received from Barbadoes.' [BM t.2741-2/1827].
History at Camden Park
Listed in all published catalogues [T.714/1843].
Notes
Published Mar 02, 2010 - 09:07 PM | Last updated Jul 15, 2010 - 05:26 PM
---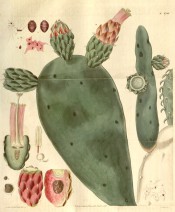 More details about Opuntia cochinellifera (L.) Mill.

| | |
| --- | --- |
| Family | Cactaceae |
| Category | |
| Region of origin | Mexico |
| Synonyms | |
| Common Name | Cochineal cactus |
| Name in the Camden Park Record | Opuntia Cochenellifera - Cochineal Cactus |
| Confidence level | high |