Nerine humilis (Jacq.) Herb.
Bulbous perennial with four to six spreading or prostrate, strap-sheped leaves and a loose umbel of 1-8 pale to deep pink flowers with undulating margins. To 40cm. [RHSD, CECB].
Horticultural & Botanical History
First botanically described by Jacquin as Amaryllis humilis [Jacquin Sch. vol.1, p.36/1797]. Transferred to Nerine by Herbert in 1820 [BM t. 2124/1820].
'Our drawing was made at Messrs. Colville's Nursery, in the King's Road, where it flowers freely every year towards the latter end of the Summer, is often taken for undulata, and in some gardens is called crispa, the name of a very distinct species. We know nothing of the time when nor by whom it was imported. Jacquin received his bulbs from the Cape.' [BM t.726/1804].
History at Camden Park
Marked with a 'c', denoting grown at Camden, in an 1836 edition of Loddiges' Nursery catalogue held at Camden Park. [CPA]. Although almost certainly grown at Camden it did not appear in the 1843 or subsequent catalogues and may have been lost.
Notes
Published May 29, 2009 - 01:16 PM | Last updated Aug 09, 2012 - 02:45 PM
---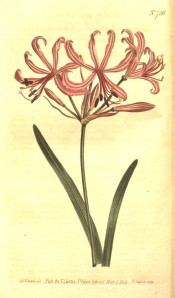 More details about Nerine humilis (Jacq.) Herb.
Family
Amaryllidaceae
Category
Region of origin

South Africa

Synonyms

Amaryllis humilis Jacq.
Imhofia humilis (Jacq.) Kuntze
Loxanthes humilis (Jacq.) Salisb.
Nerine breachiae W.F.Barker
Nerine flexuosa Herb., p.p.
Nerine flexuosa var. pulchella (Herb.) Baker
Nerine humilis subsp. fera (W.F.Barker) Traub
Nerine humilis f. fera W.F.Barker
Nerine peersii W.F.Barker
Nerine pulchella Herb.
Nerine tulbaghensis W.F.Barker

Common Name
Name in the Camden Park Record

Nerine humilis

Confidence level
high