Leucojum vernum L.
A bulbous perennial, it bears a few only erect, strap-like leaves and stout, leafless stems with 1, sometimes 2, bell-shaped, green-tipped white flowers in early spring. To 30cm. [RHSE, Hortus, Baker Am.].
Horticultural & Botanical History
Fist botanically described by Linnaeus in 1753 [Sp. Pl. p.289/1753].
The Snowflake is a rare bulbous plant, perfectly hardy, but impatient of wet in winter.' [Gard. Chron. 1850]. According to Paxton's Dictionary introduced to Britain in 1596. The varieties carpathian, introduced in 1816, and multiplex are also listed. 'The blossoms of the Leucojum and Galanthus, or Snow-Drop, are very similar at first sight, but differ very essentially when examined; the Snow-Drop having, according to the Linnaean description, a three-leaved nectary, which is wanting in the Leucojum; the two genera then being very distinct, it becomes necessary to give them different names; we have accordingly bestowed on the Leocojum the name of Snow-flake. […] It is found wild in shady places and moist woods in many parts of Germany and Italy.' [BM t.46/1786]. FS f.1103/1856.
History at Camden Park
Listed in all published catalogues [B.297/1843].
Notes
Leucojum vernum Gueldenst. (b.1781) = Leucojum aestivum L. which see.
Published May 17, 2009 - 03:07 PM | Last updated Jul 16, 2012 - 04:41 PM
---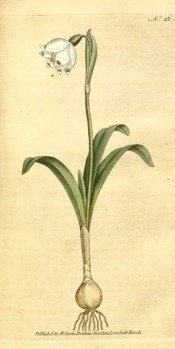 More details about Leucojum vernum L.
Family
Amaryllidaceae
Category
Region of origin

Southern Europe

Synonyms

Erinosma verna (L.) Herb.
Nivaria verna (L.) Moench

Common Name

Spring snowflake

Name in the Camden Park Record

Leucojum vernum

Confidence level
high