Hymenocallis rotata (Ker-Gawl.) Herb.
Bulbous perennial with up to 8 strap-like leaves, to 70cm long, and stems, to 60cm, bearing terminal umbels of usually 2-3, but up to 8 fragrant, white or yellowish flowers. [RHSD, Hortus, Baker Am.].
Horticultural & Botanical History
The first recorded description appears to be that of Miller in 1768 as Pancratium carribaeum, but this is regarded as an illegitimate name [Gard. Dict. ed.8, p.4/1768]. It was botanically described as Pancratium rotatum by Ker Gawler in 1805 [BM t.827/1805] and placed in Hymenocallis by Herbert in 1821 [Herbert's Appendix p.44/1821].
'A native of South Carolina and Florida; thrives very well on a shelf in the stove, producing its fragrant flowers in September and October. The delicate filmy nectary of this plant is extremely curious.: the best soil for it is peat mixed with a large portion of sand. Bulbs of this very rare plant were first sent us, about the year 1790, by our very generous friend, the elder Michaux, a botanist who yet lives in the memory of every one who had the happiness of his acquaintance.' [LBC no.19/1817].
'We are informed by Mr. Loddige [sic], the Nurseryman at Hackney, that this handsome species is a native of Carolina, and that he received it from thence some time since. If it is Michaux's plant, of which we have scarcely a doubt, he tells us it grows there in such spots as are usually at one time or another under water, and that in the wild state it is constantly two-flowered, but under cultivation from two to five-flowered. Our drawing was taken at Mr. Woodford's; requires a strong heat to make it thrive, and rich mould; produces abundance of offsets; the nether bulb itself often perishing after producing the bloom. The leaves grow distichwise, are little more than an inch broad, about two feet in length; the upper part of lamina striated; the scape issues from the middle of these. The bloom was gone off before I could procure it for examination, but in the drawing the segments of the corolla seem something shorter than the tube, and the crown about a third shorter than the segments. It is certainly neither the mexicanum nor carolinianum of Linnaeus, if any reliance can be placed on the synonyms he has cited, and which are most probably also his authorities for the species. The web that connects the stamens both in size and form affords a very strong distinction from all the species yet known to us; but it certainly in habit comes nearest to the mexicanum of any we have read of. Mr. Salisbury tells us that the variety of Pancratium littorale, published in our last number, is likewise a native of Carolina.' [BM t.827/1805]. BM t.1082/1807.
History at Camden Park
Listed in all published catalogues as Hymenocallis rotata [B.228/1843] and Pancratium rotatum [B.385/1843]. It is quite possible that the two plants varied slightly from each other perhaps in flower colour or in the number of flowers per umbel.
Notes
Published May 17, 2009 - 11:45 AM | Last updated Jul 16, 2012 - 04:32 PM
---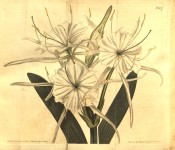 More details about Hymenocallis rotata (Ker-Gawl.) Herb.
Family
Amaryllidaceae
Category
Region of origin

Caribbean, Central America, USA

Synonyms

Hymenocallis disciformis (DC.) M.Roem.
Hymenocallis floridana (Raf.) C.V.Morton
Hymenocallis lacera var. minor Chapm.
Hymenocallis laciniata Small
Hymenocallis mexicana Herb.
Hymenocallis paludosa Salisb.
Pancratium rotatum Ker-Gawl.
Pancratium carribaeum Mill.
Pancratium disciforme DC.
Pancratium mexicanum Micheaux
Tomodon floridanum Raf.
Tomodon rotatum (Ker Gawl.) Raf.

Common Name

Cuban lily, Spider lily, Basket flower, Amerindian lily

Name in the Camden Park Record

Hymenocallis rotata, Pancratium rotatum

Confidence level
high