Hymenocallis caribaea (L.) Herb.
An evergreen bulbous perennial with 12 or more, semi-erect, strap-shaped basal leaves, up to 90cm long, and umbels of up to 12 fragrant white flowers, to 15cm across, in spring. To 60cm. [RHSE, Botanica, Baker Am.].
Horticultural & Botanical History
First botanically described by Linnaeus in 1753 as Pancratium caribaeum [Sp. Pl. p.291/1753]. Placed in Hymenocallis by Herbert in 1821 [Herbert's Appendix p.44/1821] the name by which it is generally known today.
'This species [Pancratium declinatum] is not so much known in this country as on the continent; it seems to be the same as Jacquin's distichum, which Willdenow has evidently confounded with amoenum, from which the difference is sufficiently marked. The leaves are near two feet in length, and their insertion into the bulb is almost distich-wise: the scape is about a foot in height, ancipital, and bearing eight or nine flowers: the limb of the corolla is twice the length of the tube; the nectary is short, having six stameniferous teeth, without any intermediate ones. It is a native of Brazil.' [LBC no.558/1821].
It is figured in Curtis's Botanical Magazine as P. caribaeum. 'A native of the West-Indies; said to have been introduced by P. Miller, in 1730. In our figure an inner younger leaf is represented, and the stem is seen on one of its narrowest sides. Blooms in our stoves generally twice a year, about June and February.' [BM t.826/1805].
Johnson's Dictionary gives a date of introduction for P. declinatum of 1825, and 1730 for P. caribaeum.
History at Camden Park
Listed in all published catalogues [B.382/1843].
Notes
Published May 17, 2009 - 01:18 PM | Last updated Jul 16, 2012 - 10:20 AM
---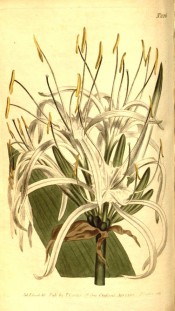 More details about Hymenocallis caribaea (L.) Herb.
Family
Amaryllidaceae
Category
Region of origin

Caribbean

Synonyms

Hymenocallis angusta (Ker Gawl.) Herb.
Hymenocallis cinerascens M.Roem.
Hymenocallis declinata (Jacq.) Sweet
Hymenocallis obtusata Griseb ex Walp.
Hymenocallis patens (Lindl. ex Delile) Herb.
Hymenocallis sessilis Salisb.
Hymenocallis sloanei M.Roem.
Nemepiodon caribeum (L.) Raf.
Pancratium amoenum Salisb.
Pancratium angustum Ker Gawl.
Pancratium caribaeum L.
Pancratium declinatum Jacq.
Pancratium excisum L.f. ex Kunth
Pancratium fragrans Willd.
Pancratium obtusatum Griseb.
Pancratium patens Lindl. ex Delile
Pancratium recurvum Stokes
Troxistemon fragrans Raf.

Common Name
Name in the Camden Park Record

Pancratium declinatum

Confidence level
high