Hippeastrum striatum (Lam.) H.E.Moore
A variable species with many recognised varieties. Stout stems bear an umbel of up to 4, funnel-shaped, orange to coral-red flowers, each segment bearing a central green stripe, in spring and summer. The leaves emerge with the flowers. [RHSE, Hortus].
Horticultural & Botanical History
William Herbert figured Hippeastrum pulverulentum in Curtis's Botanical Magazine [BM t.2273/1821]. A large number of forms of Hippeastrum striatum are figured in the Victorian literature. Loddiges' Botanical Cabinet figures Amaryllis pulverelenta Lodd.: 'The blossoms are very conspicuous, and like the whole of this splendid genus, extremely beautiful: they were in perfection in November, and did not produce any seed.' [LBC no.484/1820]. A very similar variety, Amaryllis acuminata var. longipedunculata, synonyms A. acuminata Suprà., A. pulverulenta Herb., is figured in the Botanical Register [BR f.1188/1828]. Others include: Amarylis fulgida Ker-Gawl., synonym Hippeastrum rutilum var. fulgidum (Ker-Gawl.) Voss, the latter shown with orange flowers 'the nearest of its kind are crocata, rutila, equestris and reginae' BR f.226/1817; Amaryllis crocata Ker-Gawl. BR f.38/1815; A. rutila Ker-Gawl. BR f.23/1815, LBC no.1449/1830; Amaryllis acuminata BR f.534/1821; Hippeastrum fulgidum flore pleno FS f.1546/1860-65; Amaryllis crocata LBC no.1082/1826.
History at Camden Park
Listed in all published catalogues [B.216/1843]. Hippeastrum striatum still grows in the gardens in large numbers, putting out its beautiful orange blooms in the late spring.
Notes
Published May 10, 2009 - 02:27 PM | Last updated Jul 12, 2010 - 02:38 PM
---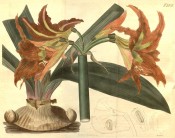 More details about Hippeastrum striatum (Lam.) H.E.Moore
Family
Amaryllidaceae
Category
Region of origin

Brazil

Synonyms

Hippeastrum pulverulentum Herb.
Hippeastrum rutilum Herb.
Amaryllis striata Lam.

Common Name
Name in the Camden Park Record

Hippeastrum pulverelentum

Confidence level
high