Hippeastrum psittacinum (Ker-Gawl.) Herb.
A bulbous perennial with up to 8 strap-shaped leaves, to 45cm long, appearing with the flowers, and a stout stem, to 60cm, bears up to 4 trumpet-shaped flowers, with short greenish white tubes and spreading lobes, striped crimson, to 13cm across, with a green keel and wavy crimson margins. To 60cm. [RHSD, Baker Am.].
Horticultural & Botanical History
First botanically described as Amaryllis psittacina by Ker Gawler in 1817: 'The present is the fifth unrecorded Amaryllis from the Brazils which has been published in this work out of the collection of Mr. Griffin. To have been the first to bring within the sphere of science and into culture an equal number of plants, belonging to a same remote region, of a same genus, and all interesting, either on the score of curiosity or beauty, within little more than two years, has probably never before been the chance of any single collector in Europe. The bulb was sent about 3 years ago by Mr. E. Woodford, from Rio Janeiro; and flowered in Mr. Griffin's hothouse at South Lambeth in March last.' [BR f.199/1817]. Placed in Hippeastrum by Herbert in 1821 [Herbert's Appendix p.31/1821].
'This is a native of Rio Janeiro, and was introduced a few years since. It usually flowers in the spring, and is a very shewy plant.' [LBC no.1204/1828]. Introduced to Britain in 1816. [JD].
History at Camden Park
Listed in all published catalogues [B.215/1843].
Notes
Published May 09, 2009 - 05:02 PM | Last updated Jul 13, 2012 - 01:41 PM
---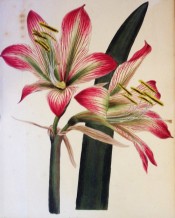 More details about Hippeastrum psittacinum (Ker-Gawl.) Herb.
Family
Amaryllidaceae
Category
Region of origin

Brazil

Synonyms

Amaryllis psittacina Ker Gawl.
Amaryllis illustris Vell.
Aschamia psittacina (Ker Gawl.) Salisb.
Hippeastrum decoratum Lem.
Hippeastrum illustris (Vell.) M.Roem.
Leopoldia illustris (Vell.) M.Roem.
Trisacarpis psittacina (Ker Gawl.) Raf.

Common Name

Parrot Amaryllis

Name in the Camden Park Record

Hippeastrum psittacinum

Confidence level
high