Phycella cyrtanthoides (Sims) Lindl.
Bulbous perennial with large bulbs, to 10cm across, usually producing about 4 leaves, to 60cm long, which appear with the flowers, and umbels of up to 9 narrowly-funnel-shaped bright red flowers, yellowish-green towards the base, in autumn. To 45cm. [RHSD, Baker Am.].
Horticultural & Botanical History
First botanically described as Amaryllis cyrtanthoides by Sims in 1823 [BM t.2399/1823]. Placed in Phycella by Lindley in 1825 in a note in the Botanical Register: 'We have recently had an opportunity of examining fresh flowers of this plant [Amaryllis ignea, BR f.809/1824], which we, at the time we published it, had not seen in a perfect state. At that time, it was supposed that it might, at some future period, be found to constitute a genus distinct from any previously described, and the belief we then entertained is now confirmed. It differs from Amaryllis in having each of the stamens, which are opposite the outer divisions of the perianthium, furnished with two subulate processes, and from Chlidanthus, in having the stamens distinct, and inserted nearly at the base of the perianthium, and in the structure of this latter. This genus may be called Phycella, and thus defined [latin description follows]'. [BR f.928/1825].
First figured in Curtis's Botanical Magazine as Amaryllis cyrtanthoides [BM t.2399/1823] and as Phycella ignea var. glauca [BM t.2687/1826], William Herbert commenting here: 'Amaryllis cyrtanthoides (supra 2399), is, undoubtedly, a Phycella; our specimen was evidently in a sickly state, and we cannot now distinguish it from ignea.'
'We received bulbs of this pleasing plant [Phycella glauca] from Mr. Cumming, at Valparaiso, in April last, and they flowered in June. It is evidently the P. ignea var. glauca of the BM 2687.' [LBC no.1746/1831].
'[Phycella ignea] is another Chilian plant, received […] from Valparaiso. It flowered during the summer months, and seems to grow very freely in the greenhouse, and also in the sheltered border, fronting the stove, where we expect it will endure the winter.' [LBC no.1769/1831].
History at Camden Park
Listed in the 1843, 1845 and 1850 catalogues. An early importation was probably lost because both Phycella ignea and Phycella glauca were included among desiderata to Loddiges' Nursery on 6th January 1845. [MP A2933-2, p.28].
Notes
Published May 15, 2009 - 04:31 PM | Last updated Jul 13, 2012 - 01:14 PM
---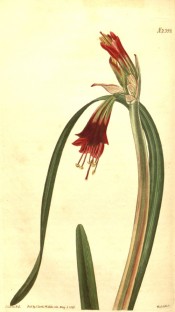 More details about Phycella cyrtanthoides (Sims) Lindl.
Family
Amaryllidaceae
Category
Region of origin

Chile

Synonyms

Phycella ignea Lindl.
Phycella angustifolia Phil.
Phycella attenuata Herb.
Phycella glauca Lodd.
Phycella biflora Lindl.
Phycella corusca Lindl.
Phycella macreana Pritz.
Phycella magnifica Herb.
Phycella obtusifolia Pritz.
Amaryllis cyrtanthoides Sims
Amaryllis demissa Steud.
Amaryllis ignea Lindl.
Amaryllis magnifica (Herb.) Voss
Amaryllis philippiana Traub & Uphof
Eustephia corusca (Lindl.) D.Dietr.
Eustephia cyrtanthoides (Sims) D.Dietr.
Eustephia ignea (Lindl.) D.Dietr.
Hippeastrum angustifolium Phil.
Hippeastrum igneum (Lindl.) Muñoz

Common Name
Name in the Camden Park Record

Phycella ignea

Confidence level
high