Godetia grandiflora Lindl.
Stout-stemmed, bushy annual with oblong leaves and leafy raceme of satiny, saucer-shaped flowers, usually rose-coloured with a deeper cente, but in garden varieties ranging in colour from red to white. To 30cm. [RHSD, Hortus].
Horticultural & Botanical History
It is figured in the Ornamental Flower Garden [OFG f.74/1854] and the Botanical Register. 'A native of the North-West coast of North America, the country above all others rich in handsome hardy annuals. Douglas however never met with it, nor does any trace of it appear among the collections published from the materials of other travellers. It is most nearly allied to G. roseo-alba, a plant the origin of which is not well ascertained. The flowers are the largest of any, and have a peculiarly delicate texture. The plant forms a bush about two feet high, less spreading than G. Lindleyana; it flowers in July and August. There are those who would reunite the genus Godetia with Oenothera, from which it has been separated by M. Spach: but we think that botanist right for once, and that Godetia is really quite a distinct genus. Its technical character consists in its seeds having an appendage in the form of a shallow membranous cup, which no doubt represents the tuft of hairs peculiar to Epilobium; but its constitutional differences are also remarkable. Its flowers are never yellow, as in true Oenothera, and what is remarkable there is in almost every species a distinct indication of a deeper blotch or spot a little below the middle of each petal, and where this is not evident the general colour of the petal becomes darker at that place. This constant tendency must be an indication of some remarkable physiological peculiarity, although we cannot explain its nature, and such indications are by no means to be overlooked in determining the limits of genera. Unfortunately no seed was saved of this handsome annual, which was raised from seeds obtained from North-West America by the late Mr. Moreton Dyer.' [BR f.61/1842]. It is figured with white, pink-tinged flowers. According to Johnson's Dictionary this plant was introduced to Britain in 1831. But the late date of naming (1842) makes this an unlikely identification. Forms of Clarkia amoena A.Nielson & J.F.Macbr. have been called grandiflora.
History at Camden Park
Listed in all published catalogues [H.164/1843].
Notes
Oenothera grandiflora Ruiz & Pav. = O. acaulis Cav. which see.
Oenothera grandiflora Lam. = O. lamarckiana Ser.
See also Oenothera biennis L. var. grandiflora (L'Hér.) Lindl., another, more likely, possibility for Macarthur's Oenothera grandiflora.
Published Oct 12, 2009 - 03:12 PM | Last updated Jul 28, 2010 - 03:28 PM
---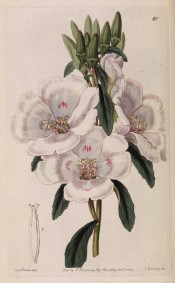 More details about Godetia grandiflora Lindl.
Family
Onagraceae
Category
Region of origin

North America

Synonyms

Oenothera whitneyi A.Gray
Clarkia superba A.Nielson & J.F.Macbr.
Godetia whitneyi (A.Gray) T.Moore

Common Name

Godetia

Name in the Camden Park Record
Confidence level
low