Echinopsis eyriesii (Turp.) Zucc. ex Pfeiff & Otto
Frost tender, spherical, later cylindrical cactus with 11-18-ribbed stems, occasionally offsetting, almost black spines, and white flowers, to 25cm long, opening in the late afternoon in summer. To 30cm. [RHSE].
Horticultural & Botanical History
'This remarkable species […] was presented to the Horticultural Society some years since by Sir John Lubbock, who had procured it from Mexico, where the genus seems to exist in great numbers; it flowers at various seasons, and now and then forms an offset. Independantly of the large size of its flowers, which rival in dimensions those of the Cereus tribe of Cacti, it is remarkable for the rich delicious odour they exhale at night, at which time its glorious blossoms expand. When young they resemble long sooty-grey horns covered over with a thick shaggy hairiness, and would never be suspected to conceal a form of the utmost beauty, or a clear and delicate complexion. When the hour of perfection has arrived, and the coarse veil of hair begins to be withdrawn by the expansion of the unfolding petals, one is amazed at the unexpected loveliness which stands revealed in the form of this vegetable star, whose rays are of the softest white, while the disk is of a rich yellow formed by the stigma and the clustering anthers.' [BR f.1707/1834].
Introduced to Britain in 1829. [JD]. The variety glaucus is also figured in the Botanical Register. [BR f.31/1838]. BM t.3411/1835.
History at Camden Park
Listed only in the 1850 and 1857 catalogues [T.405/1850].
Notes
Published Mar 02, 2010 - 05:07 PM | Last updated Jul 15, 2010 - 05:19 PM
---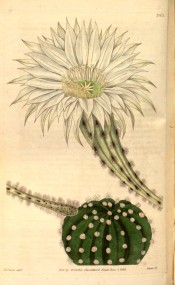 More details about Echinopsis eyriesii (Turp.) Zucc. ex Pfeiff & Otto
Family
Cactaceae
Category
Region of origin

Argentina and Uruguay

Synonyms

Echinopsis pudantii Pfersdorf
Echinocactus eyreisii Turp.
Cereus eyreisii Pfeiff.
Echinonyclanthus eyreisii Lem.

Common Name
Name in the Camden Park Record

Echinocactus Eyresii

Confidence level
high