Disocactus alatus (Sw.) Kimnach
Frost tender, freely-branching cactus with pendant primary stems, to 5m across, leaf-like, broadly linear, scalloped-wavy lateral stems and open funnel-shaped , yellowish cream or greenish white flowers, to 1.5cm across, in spring. To 30cm. [RHSE, Don].
Horticultural & Botanical History
Introduced to Britain in 1810. [JD]. 'A flowering specimen of this singular species of Cactus was obligingly communicated, in November, 1827, by Mrs. Arnold Harrison, of Aigburth, together with an excellent sketch of the natural size of the plant; which last is copied on a very reduced scale at fig. 1. of the accompanying plate. That lady received it from her brother William Harrison, Esq. of Rio, who discovered it in the Organ mountains. I was at first disposed to consider it distinct from Cactus alatus, more, however, from the country which it inhabits (so distinct from Jamaica, the only station hitherto given for that plant), than from any other circumstance: for I have generally considered the Cacti to be peculiarly local in their geographical distribution. Swartz's decription, however, especially his account of the size and colour of the flowers of his Cactus alatus, is such as to forbid their being kept separate: at the same time, as there is no figure of the plant existing, I cannot determine the point with certainty. Sloane refers to Cactus Phyllanthus in Plenkenet, which has unusually large flowers; whereas our plant has rather the blossom of the Rhipsalis than the Phyllanthus tribe: thus shewing that a similar habit in the plant and in the flowers are not always combined in this tribe, and that we ought to be cautious how we separate this family into Genera.' [BM t.2820/1828].
History at Camden Park
Listed only in the 1850 and 1857 catalogues [T.413/1850].
Notes
Published Mar 02, 2010 - 05:15 PM | Last updated Jul 15, 2010 - 05:18 PM
---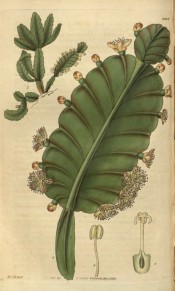 More details about Disocactus alatus (Sw.) Kimnach
Family
Cactaceae
Category
Region of origin

Jamaica

Synonyms

Epiphyllum alatum Haw.
Cactus alatus Sw.
Cereus alatus DC.
Hariota swartziana Lem.
Hariota alata Kuntze
Pseudorhipsalis alata (Sw.) Britt. & Rose
Rhipsalis pachyptera Pfeiff.
Rhipsalis harrisii Gurke

Common Name
Name in the Camden Park Record

Epiphyllum alatum

Confidence level
high