Brunsvigia striata (Jacq.) Ait.
Bulbous perennial with 4-6 elliptical leaves, pressed to the ground when mature, and a variable spathe to about 35cm, bearing up to 30, widely spreading deep pink to red flowers in an almost circular umbel, appearing before the leaves. [RHSD, CECB].
Horticultural & Botanical History
'This plant is, we suppose, what is meant in the Botanical Magazine, tab. 2578, by a sixth small species of Brunsvigia, imported by the late Mr. Lee under the erroneous name of Cyrtanthus ventricosus, and not yet (June 1825) observed in flower. A native of the Cape of Good Hope, and requiring the same mode of treatment as other Cape Amaryllideae.' [BR f.954/1825].
History at Camden Park
Marked with a 'c', denoting grown at Camden, in an 1836 edition of Loddiges' Nursery catalogue held at Camden Park. [CPA]. Although almost certainly grown at Camden it did not appear in the 1843 or subsequent catalogues and may have been lost.
Notes
It should be noted that the publication date for Ecklon's Brunsvigia humilis is after 1860 so this identification is doubtful.
Published May 29, 2009 - 01:23 PM | Last updated Jul 12, 2010 - 02:14 PM
---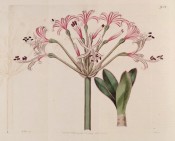 More details about Brunsvigia striata (Jacq.) Ait.
Family
Amaryllidaceae
Category
Region of origin

South Africa

Synonyms

Brunsvigia minor Lind.
Amaryllis striata Jacq.
Brunsvigia humilis Eckl. ex Baker

Common Name
Name in the Camden Park Record

Brunsvigia humilis

Confidence level
low