Brunsvigia orientalis (L.) Ait. ex Eck.
The large underground bulb produces a sturdy scape with a large spherical umbel of 20-40 crimson flowers, similar to Brunsvigia josephinae but larger, opening successively in summer. The foliage is often flat on the ground and appears after the flowers. [RHSD, CECB].
Horticultural & Botanical History
First botanically described as Amaryllis orientalis by Linnaeus in 1753 [Sp. Pl. p.293/1753]. Transferred to Brunsvigia as Brunsvigia orientalis by Aiton, this name validated by Christian Ecklon in 1827 [Topogr. Verz. Pflanzensamml. Ecklon p.7/1827].
'Native of the Cape of Good Hope, whence it is said in the Hortus Kewensis to have been introduced by Mr. Malcolm, in 1767; it had however been cultivated by the author of the Gardener's Dictionary [Miller], previous to that period. Known in the Dutch and Italian gardens nearly a century and a half ago. The older Botanists supposed it to be an East-Indian vegetable, an error that misled Linnaeus into the adoption of the specific name of orientalis.' [BM t.1619/1814].
History at Camden Park
Listed in all published catalogues [B.52/1843]. There is no information on its introduction to the gardens but it is likely to have been grown well before 1843. Recently reintroduced to the gardens together with the orange flowered form 'Katherinae' which is somewhat easier to grow.
Notes
Published Jan 14, 2009 - 04:59 PM | Last updated Jun 26, 2012 - 02:37 PM
---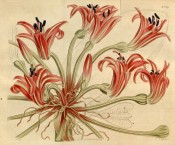 More details about Brunsvigia orientalis (L.) Ait. ex Eck.
Family
Amaryllidaceae
Category
Region of origin

South Africa

Synonyms

Brunsvigia multiflora W.T.Aiton
Brunsvigia rubricaulis M.Roem.
Brunsvigia gigantea Heist.
Amaryllis orientalis L.
Amaryllis multiflora D.Dietr.
Amaryllis nobilis Salisb.
Coburgia multiflora (W.T.Aiton) Herb. ex Sims
Crinum candelabrum M.Roem.
Haemanthus orientalis (L.) Thunb.

Common Name

Candelabra flower

Name in the Camden Park Record

Brunsvigia multiflora

Confidence level
high